Florida Marine Contractors Exam Prep
Marine contractors need to be highly skilled in order to compete in today's economy. Those skills start with hands-on training and diligent hard work. However, all the real world knowledge you have won't prepare you for the Florida Marine Contractors Licensing Exam. At Building Trades Education Services, we have over 40 years experience helping tradespeople pass the Marine Contractor exam the very first time.
Why Choose BTES for Licensing Exam Preparation?
You will learn test-taking methods that make even difficult math simple
Helpful instructors who make sure you know the coursework inside and out
Up-to-date licensing information
Friendly class environment without being overcrowded
How Can We Guarantee Your Success?
Our instructors take this intense exam each year and keep up with all the latest code changes. You will never hear any outdated information, or learn test-taking methods that don't work. By taking our course, you give yourself the best chance to learn and pass the Marine Contractors test.
The Course is Already Mapped Out
Follow in the footsteps of thousands of Marine contractors who were once BTES students. Our 99% pass rate isn't just some marketing trick. Our students are successful because they took what they learned in the field and in the class room and created thriving businesses. Register for the 4-day course today.
EXTRA EXTRA, LEARN ALL ABOUT IT! Did you know that BTES includes the mandatory 2-day Business and Finance Course? Think about it. During the course you will have everything you need to pass this state exam and be one step closer to becoming a Florida licensed contractor!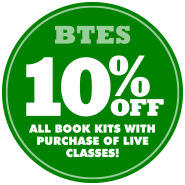 CLICK HERE to view your required reference books.
Florida Marine Contractor's Exam Prep – License Courses

(Price includes 2 Day Business & Finance Course)

DAYS
TRADE
Prep Course Price
4
Marine
$1295
At BTES, our trade is your success.
Contact us today to learn how to pass the Marine Contractor Florida state exam.