Florida Gypsum Drywall Licensing Exam Prep Courses
Building Trades Education Services gives you the training you need to pass the Gypsum Drywall licensing exam the very first time. Instead of wasting your time with classes that are short on substance and high on price, why not choose the Florida Contractors Licensing Exam Prep school with a solid history and a proven 95% student pass rate?
For years, tradespeople have turned to Building Trades Education Services to teach them test-taking skills that actually work. Our instructors take the time to get hands-on with the course material. To give you the edge you need, they also take the most recent Florida Gypsum Drywall licensing test. The students who actively participate in the live class leave with the confidence they need to attain the Florida Gypsum Drywall license.
What happens if you don't pass the Florida Gypsum Drywall test the first time?
No worries. You can take advantage of our "No Pass – No Pay Guarantee" and attend courses throughout the year for free.
How do I register for this Gypsum Drywall licensing exam prep classes?
Registering for the 4-day Gypsum Drywall exam prep courses is easy. Call us and you can register over the phone with all four major credit cards. Have questions? Contact us via phone or online and we'll be happy to help you.
EXTRA EXTRA, LEARN ALL ABOUT IT! Did you know that BTES includes the mandatory 2-day Business and Finance Course? Think about it. During the course you will have everything you need to pass this state exam and be one step closer to becoming a Florida licensed contractor!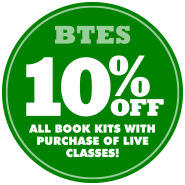 REFERENCE BOOKS:
CLICK HERE to view your required reference books.
Florida Gypsum Drywall Exam Prep – License Courses

(Price includes 2 Day Business & Finance Course)

DAYS
TRADE
Prep Course Price
4
Gypsum Drywall
$1295
At BTES, our trade is your success.
Contact us today to learn how to pass the Gypsum Drywall Florida state exam.