Florida General Contractor License Exam Prep
Many successful General contractors in Florida have received their exam prep from BTES. Our instructors consistently provide aspiring tradespeople the knowledge and test-taking methodology they need in order to attain this essential part of the licensing process – passing the exam without drama or stress. Our test-taking methods along with our comprehensive study guides are proven to help you pass the Florida General, Builder, and Residential contractors licensing exam the very first time.
What makes BTES students so successful?
By far, it's the connection they make to the course material. We keep the class size low on purpose. With such a focused setting, you get personalized attention and an inclusive atmosphere which makes learning how to make taking this difficult exam simple.
Here's more of what you can expect after you register for the 5-day General, Builder & Residential Contractors Exam Prep course from BTES:
100% Trade Instruction – No mixing of unrelated trades such as plumbing, electrical or HVAC
Provides questions and answers that mirror prior exams so that you gain experience by practicing on realistic exam material
Thorough instruction that breaks down the subject material in a simple way
Learn simple ways to turn difficult math problems into easy to answer questions
Our toll-free hotline support is available for help or any additional questions
Our reliable

"No Pass – No Pay" guarantee
EXTRA EXTRA, LEARN ALL ABOUT IT! Did you know that BTES includes the mandatory 2-day Business and Finance Course? Think about it. During the course you will have everything you need to pass this state exam and be one step closer to becoming a Florida licensed contractor!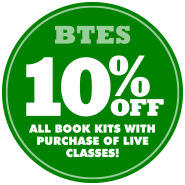 REFERENCE BOOKS:
CLICK HERE to view your required reference books.
Florida General Contractor's Exam Prep – License Courses

(Price includes 2 Day Business & Finance Course)

DAYS
TRADE
Prep Course Price
5
General, Builder & Residential
$1295
At BTES, our trade is your success. Go into your exam totally prepared and on target towards your goal!
Contact BTES today to learn how to pass the Florida General, Builder & Residential Contractors exam.