Specialty Structures Contractors Exam Prep
Even after years of on-site field experience, tradesmen must still take the state mandated Florida Specialty Structures licensing exam. This crucial and necessary step is seen as difficult by many because of the math-intensive nature of the Florida Specialty Structures licensing exam. However, when you ask one of the contractors who chose Building Trades Education Services as their licensing exam prep, you'll discover proven ways to take this contractor exam. Trade knowledge ranks very low in what's necessary for you to pass this exam. Finding obscure information in obscure locations within reference manuals is a favorite tactic of test preparers and administrators. It's not what you know but where IT is in a book that wins on test day!
For over 30 years, the BTES instructors have given tradesmen the test-taking skills they needed to pass the Florida Specialty Structures contractors licensing exam. Our exam prep course has proven to the difference for new and old contractors alike, throughout the State of Florida.
Here's what you can expect the 5-day Specialty Structures licensing exam prep course:
Make complex math equations easier to solve
Study up-to-date building codes and technical references so you don't get caught off guard on test day
Use our toll-free homework hotline and unlimited email support for after-class help
Save time using our proven test-taking tips and strategies
EXTRA EXTRA, LEARN ALL ABOUT IT! Did you know that BTES includes the mandatory 2-day Business and Finance Course? Think about it. During the course you will have everything you need to pass this state exam and be one step closer to becoming a Florida licensed contractor!
FACTS TO KNOW:
A Specialty Structure Contractor is a contractor whose services are limited to the execution of contracts requiring the experience, knowledge and skill necessary for the fabrication, assembling, handling, erection, installation, replacement, dismantling, adjustment, alteration, repair, servicing and design work when not prohibited by law, in accordance with accepted engineering data and/or according to manufacturers specifications in the aluminum, metal, canvas, vinyl and fiberglass screening, doors and windows, hurricane protection devices and allied construction materials. The scope of such work includes and is limited to:
fabric coverings on metal substructures, screened porches, screened enclosures, pool enclosures, preformed panel-post and beam roofs, manufactured housing roof-overs, vinyl or acrylic panel window enclosures, guardrails, handrails, aluminum and vinyl fences
the installation or replacement of windstorm protective devices, single story self-contained aluminum utility storage structures (not to exceed 720 sq. ft.), residential glass window and door enclosures, sunrooms, siding, soffit, fascia and gutters.
wood work incidental to the aluminum and allied materials construction work.
construction of wood framing for the walls of uninhabitable utility storage structures, raised wood decks for enclosures, and the repair and/or replacement of wood incidental to the installation of glass windows and doors, installation of siding, soffit, fascia, gutters and preformed panel-post and beam roofs.
the scope of such work shall comply with all plans, specifications, codes, laws and regulations applicable. The scope of such work shall include masonry concrete work and be limited to foundations, slabs and block kneewalls incidental to the aluminum and allied construction materials construction work. The specialty structure contractor, whose services are limited, shall not perform any work that alters the structural integrity of the building including but not limited to roof trusses, lintels, load bearing walls and foundations. The specialty structure contractor shall subcontract, with a licensed qualified contractor in the field concerned, all other work incidental to that which is defined herein but which is the work of a trade other than that of a specialty structure contractor.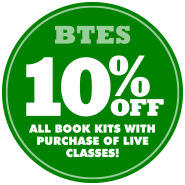 REFERENCE BOOKS:
CLICK HERE to view your required reference books.
Florida Specialty Structures Exam Prep – License Courses

(Price includes 2 Day Business & Finance Course)

DAYS
TRADE
Prep Course Price
5
Specialty Structures
$1295
At BTES, our mission is your success. Contact us today to learn how to pass the Specialty Structures Contractor Florida state exam.