Florida Electrical Contractor License Exam Preparation
Why are we successful when others aren't?
BTES helps aspiring electricians become full-fledged electrical contractors. Over the years, we've developed focused teaching methods which have contributed to a near perfect success rate of 99.8%. Electricians who enroll in our licensing exam prep school are taught by instructors who take the time to teach you how to teach yourself.
By fully immersing yourself into our Electrical Contractor's Licensing Exam courses, you'll gain confidence, test-taking skills, and the knowledge that you can and WILL pass the state exam. When you sign up for our live exam prep courses, you can expect to work with teachers who create a curriculum based on proven methods of finding obscure information in obscure places within the required text books which is what the State exams test you on. Trade knowledge, unfortunately, is a very minuscule part of the process. You also get the added benefit of:
Our reliable

"No Pass – No Pay" guarantee

Studying current Florida codes and regulations

Smaller class size to ensure that you receive personal attention

Electrical contractor and related trade exam classes only (we don't mix trade talk)

Repeating a class for FREE (up to one year)

Practice exam questions based on the up-to-date licensing info
EXTRA EXTRA, LEARN ALL ABOUT IT! Did you know that BTES includes the mandatory Business and Finance Course? Think about it. During the course you will have everything you need to pass this state exam and be one step closer to becoming a Florida licensed contractor!
FLORIDA ELECTRICAL CONTRACTORS STATE EXAM INFORMATION
Here is some information provided by the state of Florida. All journeyman and master electrical contractors should familiarize themselves with these documents:
How To Become a State Certified Electrical or Alarm Contractor in Florida
After you've completed your training and attended all the appropriate classes, you will have to submit your application and all required fees to the state of Florida. Once you pass the exam, you'll then be able to apply for an initial Florida certified electrical or alarm contractor's license. Follow this link to access the Electrical or Alarm contractor Florida license applications.
Those who apply for an initial Florida Electrical or Alarm contractor's license (or other related field) must provide proof of experience in their chosen field. All contractor license applications are reviewed and approved by the state Board.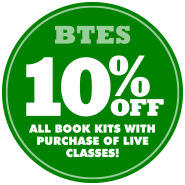 REFERENCE BOOKS:
CLICK HERE to view your required Electric reference books.
HOW TO REGISTER – LICENSING EXAM COURSE
Florida Electrical Exam Prep – License Courses

(Price includes 1-1/2 Day Business & Finance Course)

DAYS
TRADE
Prep Course Price
5-1/2
Master Electrical "UE"
$1695
4-1/2
State Alarm 1 "A1"
$1495
3-1/2
State Alarm 2 "A II"
$1495
2-1/2
State Limited Energy "LE"
$1295
3-1/2
State Sign Specialty "SS"
$1295
2-1/2
State Lighting Maintenance "LM"
$1295

The Florida electrical contractor's exam is not easy. Given the stakes, doesn't it make sense to make sure you're prepared from the start? Learn the essentials, pass the exam, get your license. With Building Trades Education Services, you get everything you need to pass the Florida Master Electrical contractor's exam, the first time.
Contact BTES today to learn how to pass the Florida Electrical Contractors exam.