Florida Roofing Contractors Exam Prep
Building Trades Education Services has created a proven curriculum that turns roofers into Roofing Contractors. Not only do our students gain the necessary knowledge they need to pass Florida's Roofing Contractors licensing exam, MANY pass the very first time!
What's the secret to passing the Roofing Contractors test?
Perhaps the biggest key to our students' success is how they absorb the three decades of knowledge accumulated by our instructors. Our instructors have a deep understanding of the format and types of questions you'll be LIKELY to see on the Florida Roofing licensing exam. They also take the time to study and learn the most recent versions of the required reference books and manuals and then pass along that knowledge to you, so as to inform you as to what to probably expect on your exam such as the very obscure information taken from obscure locations within those references….a favorite tactic of the folks who write and administer the exams! Trade knowledge is nowhere near as important as you might think!!!
Here are some other benefits our students receive when they register for the 4-day Roofing Contractors licensing exam prep class from BTES:
Focused instruction with no mixing of trades such as electrical, plumbing or HVAC
Toll free homework help line and email ensures you get all the assistance you need
Our reliable

"No Pass – No Pay" guarantee

Smaller class sizes give you more one-on-one time with our instructors
Discover easy ways to make complex math into simple equations you can solve easily
EXTRA EXTRA, LEARN ALL ABOUT IT! Did you know that BTES includes the mandatory 2-day Business and Finance Course? Think about it. During the course you will have everything you need to pass this state exam and be one step closer to becoming a Florida licensed contractor!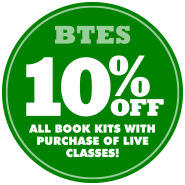 CLICK HERE to view your required reference books.
Florida Roofing Contractor's Exam Prep – License Courses

(Price includes 2 Day Business & Finance Course)

DAYS
TRADE
Prep Course Price
4
Roofing
$1295
With all the bad press people have received for not being fully licensed, now is the time to take the next step in your career. Let BTES help you pass the Florida Roofing Contractor licensing exam.
At BTES, our trade is your success. Contact us today to learn how to pass the Roofing Contractor Florida state exam.