Florida Solar Contractors Exam Prep
Today's emerging green economy means the demand for solar contractors is rising. In fact, licensed solar contractors are hired for a number of jobs. Florida solar contractors are licensed to install, maintain, and repair solar pool heating systems, solar hot water systems, and photovoltaic systems in residential, commercial and industrial facilities.
What are the requirements to become a Florida licensed contractor?
Florida requires aspiring contractors to have four years of experience (either in the field, or being taught with at least one year of experience in a supervisory role). In addition to the 4 years of experience, an aspiring contractor must pass the Florida Solar Contractors licensing exam.
What can you expect from BTES Solar Contractors Licensing Exam Prep classes?
The 4-day Solar Contractor exam prep class is:
100% focused on teaching you how to pass the Solar Contractors exam the first time.
Taught by professional instructors who have attended the Solar licensing exam.
Backed by our reliable No Pass – No Pay Guarantee.
High on personal attention due to limited class size
Full of after-class support with our Toll Free homework hotline and email
EXTRA EXTRA, LEARN ALL ABOUT IT! Did you know that BTES includes the mandatory 2-day Business and Finance Course? Think about it. During the course you will have everything you need to pass this state exam and be one step closer to becoming a Florida licensed contractor!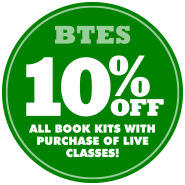 CLICK HERE to view your required reference books.

Florida Solar Contractor's Exam Prep – License Courses

(Price includes 2 Day Business & Finance Course)

DAYS
TRADE
Prep Course Price
4
Solar
$1295
If you want to take your business to new heights, getting your Solar contractor's license is a great choice. Choosing Building Trades Education Services to help you prepare for the Florida Solar licensing exam is a surefire way to ensure you complete all the state requirements.
At BTES, our mission is your success.
Contact us today to learn how to pass the Solar Contractor Florida state exam.