Florida Air Conditioning & Mechanical Exam Prep Courses
"A real no-brainer." That's what you'll hear if you ask any BTES student whether it's worth taking our Air Conditioning & Mechanical exam prep classes. The overwhelming answer is a resounding "YES!!!"
What is the secret formula? With a success rate over 95%, how do our trade students become air conditioning contractors? Are there any trade secrets? Special magic formulas? No. You are pretty much guaranteed to pass any state exam because our instructors are experts at making the complicated, simple.
The real "secret" to the success of students like you is "simple knowledge." Imagine how good it will feel the day of the Florida Air Conditioning exam to look at a complicated equation like (C = The Square Root of A squared + B squared) and be able to answer is as easily as 1+1=2.
Who teaches the class? Our instructors know the AC/HVAC and mechanical trade inside and out. Also, by taking the Florida Air Conditioning & Mechanical exam themselves, our instructors have an edge that we pass onto you.
When and where? In just 5 short days, you will have all the knowledge and test-taking skills necessary to pass these exams. Check out our upcoming Air Conditioning & Mechanical contractors exam prep course schedule.
EXTRA EXTRA, LEARN ALL ABOUT IT! Did you know that BTES includes the mandatory 2-day Business and Finance Course? Think about it. During the course you will have everything you need to pass this state exam and be one step closer to becoming a Florida licensed contractor!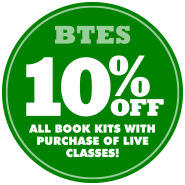 REFERENCE BOOKS:
CLICK HERE to view your required reference books.
Florida Air Conditioning & Mechanical Exam Prep – License Courses

(Price includes 2 Day Business & Finance Course)

DAYS
TRADE
Prep Course Price
5
Air Conditioning & Mechanical
$1295
Success? Guaranteed!! When we say, "We guarantee, you'll pass the AC Mechanical exam.", we MEAN IT. Our "No Pass; No Pay Guarantee" is a major reason why contractors come to BTES time after time.
At BTES, our mission is your success.
Contact us today to learn how to pass the Florida Air Conditioning/Mechanical Contractors exam.