Reference Books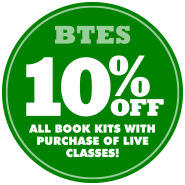 At BTES, we have all the reference books required to pass your Florida licensing examination. When you purchase a full book kit (all of your required reference books) from us, enjoy a 10% discount on that kit!
Call us for more information: (800) 832-2496
We also offer live and home-study classes to prepare you for your examination.
Each home-study guide contains:
Florida licensing examination content – Learn how to study for, and pass the exam
How to solve math problems – These guides show you how to turn a complicated formula into something as simple as 1+1=2
Detailed tabbing and highlighting instructions for Florida contractors licensing reference books
Hundreds of practice questions (with answers) to help your mind get ready for the analytical nature of the licensing test
You wouldn't walk into a job without the proper tools, right? Let Building Trades Education Services give you the tools you need to pass your Florida licensing examination the first time.
Contact BTES today and ask about our live and home-study classes!!